22 January 2019
Victory is in site with Hino Team Sugawara!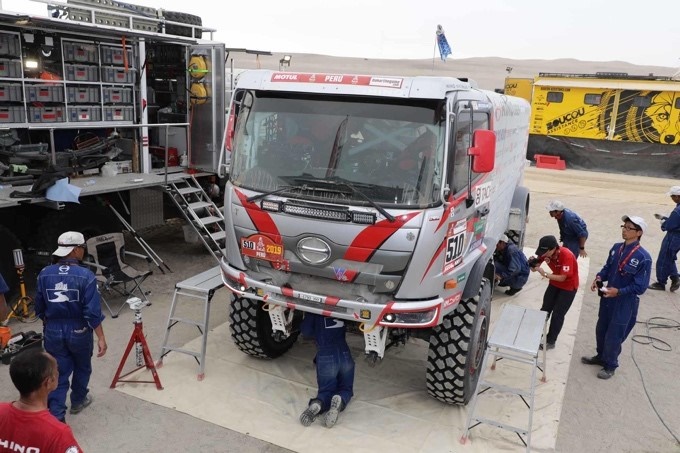 Stage 9 – Day 11 – Pisco > Pisco
On Wednesday the 16th, a 313 km loop course was established in the desert of Pisco. Hino Team Sugawara is aiming for their 10th consecutive championship in the "less than 10 litre class" truck division.
The stage 9 course was difficult for competitors to navigate through due to the rough driving conditions caused by the sand and soft soil. The No. 2 Car Hino Ranger (Sugawara Teruhito / Hamura Katsumi) held a high pace throughout this course and completed this stage in 10th place.
Meanwhile, No. 1 Car Hino Ranger (Yoshimasa Sugawara / Sakurai Hitoshi) will head to Lima as a team assistance vehicle after retiring in the first half of the Semi-marathon on the 15th (Tuesday).
In Pisco's bivouac the mechanics had carefully completed the last inspection and maintenance before the final day of the Dakar Rally.
Stage 10 – Day 12 - Pisco > Lima
On the last day of the competition, a 112 km loop course was set in the dunes near the bivouac. The course was great for the competition as it was a short distance, but the difficulty was very high due to the sand dunes, which the team appeared to experience some difficulty climbing. However, Hino Team Sugawara eventually paced through the course. With the last section complete Hino accomplished their 10th consecutive championship in the "less than 10 litre class" truck division.
This placed the Hino team in 9th place across all divisions.
The final ceremony was held at the Magdalena Beach Park on the coast of Lima. The competition cars entered the podium one by one. When the Hino Ranger arrived on the podium, Sugawara Teruhito (Driver) and Hamura Katsumi (Navigator) were welcomed by an audience of cheering fans.